Journey-through hub, a business-focused concrete jungle that is somehow shabby and does not cross your mind when thinking of lifestyle and the hot spots in Europe – all of these descriptions don't match the transformation Frankfurt has gone through in recent years. New York Times honoured the city as one of 52 Places to Go in 2014. With Brexit threatening London's status as Europe's leading financial centre, continental contestants such as Paris and Amsterdam and national competitors like Hamburg, Munich and Berlin prepare to become attractive for creatives, influencers, young families, investors and business punks. Frankfurt is working hard to become more appealing and to meet the residential housing requirements in the years ahead.
Pressure is even bringing satellite districts into focus. Frankfurt has plugged almost every conceivable hole in its city center . – Handelsblatt
State-of the-art high-rises by BIG, a luxury apartment block designed by Buro Ole Scheeren, a residential complex including social housing units by Mecanoo – Frankfurt goes high to turn into a fashionable hotspot.
Despite its "financial labels" supported by ECB and all the banking institutes, you can expect art places, creativity hubs and a blooming hype of New School coffee roasters. In short: If you ever do a trip to Germany, the countries' urban heart is definitely worth a visit.
ARCHITECTURE
Because of the river Main and the hint to the supposedly only skyline in Germany Frankfurt is also known as "Mainhatten". I guess some people from outside Europe would imagine now something like the skylines in NYC or Shanghai. In contrast, Frankfurt's high-rise silhouette is much smaller and the city (only) hosts around 730K habitants. Architecturally, Frankfurt has some goodies up in its sleeve that will add to the cities' transformation. Be it because of Brexit or the general expansion of the city, BIG, UN Studio and Ole Scheeren are on the run to equip Frankfurt with some new vibes.
The "Omnitower" (Große Gallusstraße 16-18 60311 Frankfurt am Main), BIG's new highrise will be a 54.100 sqm (about 582,328 sq) mixed-use building in the inner city. The tower has 45 floors, with a height of 190m (about 623 ft.). 44200 sqm of office space will be combined with an 8200sqm dwelling. 147 apartments. Architecture hunters will be able to visit the finished Omnitower in 2019.
In its direct neighborhood, UN Studio is about to build "FOUR" (close to Rossmarkt, 60311 Frankfurt), a quartet of high-rise buildings in downtown covering 16.200sqm. The towers have a height between 100 and 228 meters, are designed to host 600 apartments, two hotels as well as restaurants, shopping, local shops, a children's playground and adventure areas. The finalization is scheduled for 2022/2023.
As dezeen reports, Ole Scheeren will remodel a brutalism office building at the riverbank into an apartment building called "Riverbank tower". The Jenga-like tower will be his first project in Europe.
In terms of already present architectural highlights, worth to be mentioned are the Commerzbank tower by Sir Norman Foster and the European Central Bank by Coop Himmelb(l)au. Last is a polygonal-shaped double-slab high-rise with a height of around 185 meters that was designed to integrate the already existing and historically significant Grossmarkthalle (wholesale market). Due to its profile being visible from all important reference points in Frankfurt's city center, the new headquarter of European Central Bank strenghtens the tension between Frankfurt's banking district and the Ostend area.
Apart from international renowned architects, you will find some architectural highlights designed by local architects. Worth a visit is "Henninger Turm" in Sachsenhausen by local office Meixner Schlueter Wendt that re-interpreted the iconic original tower and home of a local brewery. Built in the 1950s, one of the world's tallest grain storage silos was installed on top of the orignial tower. Meixner Schlueter Wendt's re-interpretation of the building was nominated for the international high-rise award 2018. Today, in its 39th floor restaurant "Franziska" welcomes guests for a taste of Frankfurt cuisine and to experience a 360-degree view of Frankfurt's skyline thanks to floor-to-ceiling glazed panoramic windows.
Another nice spot is located close to central station: Westhafen Tower has been designed by Schneider Schuhmacher and imitates the shape of an apple wine glass that is typical for Frankfurt and which is called "Geripptes".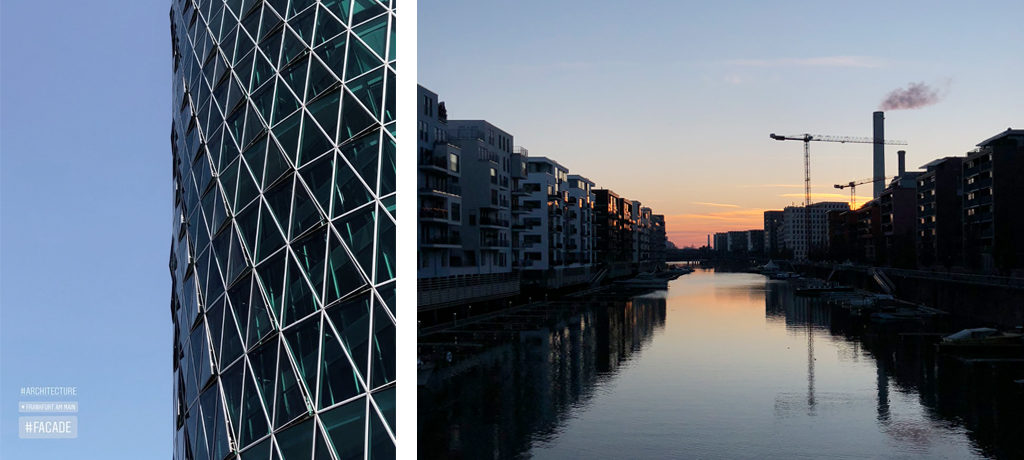 During the war in Germany, Frankfurt was one of the cities to suffer most from Allied bombs. In my opinion, this makes it worth to also dedicate some time to explore Frankfurt's post-war architecture. Go and see buildings that embossed Frankfurt after the war. In the post-war period the city radically proceeded to reconstruct and build a new cityscape. Lots of buildings from the fifties still exist today:
Let's start with Schauspiel (Neue Mainzer Str. 17, 60311 Frankfurt; 1963). From an architectural point of view, the opera and theater is exceptional. The building remained after the war, but since it became too small, the Art Nouveau facade was removed and received a modern face. The building looks like a post-war building from the outside, but inside you can still find some remaining structures from 1902. Especially commissioned for the theater, the famous Chagallsaal hosts the painting »Commedia dell' Arte«, contributed and created by artist Marc Chagall in 1959.
Part of the new Kornmarkt Arkaden, the former Bundesrechnungshof (German Federal Court of Auditors; Berliner Straße 55, 60311 Frankfurt; cultural heritage: 1954/55 by F.Steinmeyer and W.Dierschke, 2018 KSP Jürgen Engel Architects) just got renovated with a beautiful new façade. In less than 3 minutes walk you find Berliner Strasse 27 (60313 Frankfurt; cultural heritage: 1956 by Otto Apel, 2011 Scheffler&Partner), which was the architects own office- and residential building and an homage to Le Corbusier. If you find time, stop by at Christian Lebherz' chic Cool Climate wine store at Berliner Strasse.
Very close is the Kleinmarkthalle (Hasengasse 5-7, 60311 Frankfurt; 1954). The very popular food market hall is an urban hot spot and definitely recommended for a snack. Besides its architecture, locals line up at the various stands offering regional as well as exotic cooking ingredients.
Vis-à-vis of Commerzbank tower, between Kaiserstraße and Friedensstraße you will find Junior-Haus (Kaiserstraße 19-21, 60311 Frankfurt; heritage: 1951 by W. Berentzen), a beautiful, timeless 35 meter high nine-storey building that is considered to be one of the most important buildings of the reconstruction period. For more than 50 years, Mercedes-Benz has operated a representative showroom in its basement which is the reason why its roof is still adorned with the car brand's star logo.
Nearby, you find another timeless building that belongs to my Frankfurt favorites: originally, the pavilion Große Bockenheimer Straße 10 (Fressgass, 60313 Frankfurt; heritage: 1956 by Architekten W. Romberger, 2012 Architect H. Bezzenberger) with its flat roof was intended to be a "fruit shop with fruit Bar", later it hosted a pharmacy. Although it was rebuilt and refurbished in 2012, the entire façade is still in its original state.

The Bayer Haus (today Hotel Flemming, Eschenheimer Tor 2, 60318 Frankfurt; heritage: 1952 by S. Blattner) has as a great rooftop bar, where you could get a (fancy) drink and enjoy the skyline.
Head north to Oeder Weg 59 (60318 Frankfurt; 1958 by H. Schade) which locates a beautiful old residential house hosting the design store Liebesdienste where you can find a nice selection of Scandinavian but also local art and design products. If you're into graphic design, also check out the beautiful old neon sign installed above the entrance of "Goethe Apotheke" (Oeder Weg 51) and being already here grab one of the best cinnamon rolls in town at the bakery Zeit für Brot (Oeder Weg 15).
On your way back to the city center, you might pass by the 63m high "Skylight" (Stephanstraße 14–16, 60313 Frankfurt) tower. Richard Rogers and ABB architects (1999-2001) partnered to design this timeless "city within the city"-concept offering 40 residential apartments as well as office and commercial space.
If you're interested in architectural exhibitions, Frankfurt gets you covered as well. Head to the other riverside and visit DAM (German Museum of Architecture) in city district Sachsenhausen. Apart from its well-received and always changing exhibitions, DAM participates also in the SOS brutalism organization.
Did I forget your favorite? Please let me know.
DESIGN
At museum bank (Museumsufer) and located in the neighborhood of DAM you will find the famous Städel Museum and the museum Angewandte Kunst by Richard Meier. There is a lot to see.
Want to bring home a cool souvenir for creative people? Nuuna (Brückenstraße 66, 60594 Frankfurt; Thur-Sat) offers lovely designed notebooks and is a Frankfurt original. In case you're backpack is bursting, you can order the notebooks also online.
Frankfurt has a lot of creativity to offer and at least two creative schools should definitely not miss to be mentioned here: HfG Offenbach for Design and Art as well as Städelschule for Art and Architecture. If you visit Frankfurt right in time, you might be able to join one of their inspiring lectures (agenda can be found online) by internationally renowned artists and architects or even better – Städel's annual exhibition "Rundgang" showcasing the latest projects of the school's young talents.
LEISURE GUIDE
To cover the classics, you'll might want to test Frankfurt's famous local dishes green sauce, Schnitzel, Handkäs' (a special cheese) and a glass of "Apfelwein" (apple wine which is comparable with a cider). But there are a lot of nice places to go to that demonstrate an incredible variety of international cuisines and talented chefs that experience with seasonal and local ingredients.
Let's start with Sachsenhausen. Here, besides the traditional cider bars, you can find so many other great things. How about a place for tartes and quiches? L'Atelier des Tartes (Kleine Brückenstraße 3, 60594 Frankfurt) is highly recommended! The best barista coffee in Sachsenhausen you will find at Oheim (Oppenheimer Landstraße 48, 60596 Frankfurt am Main).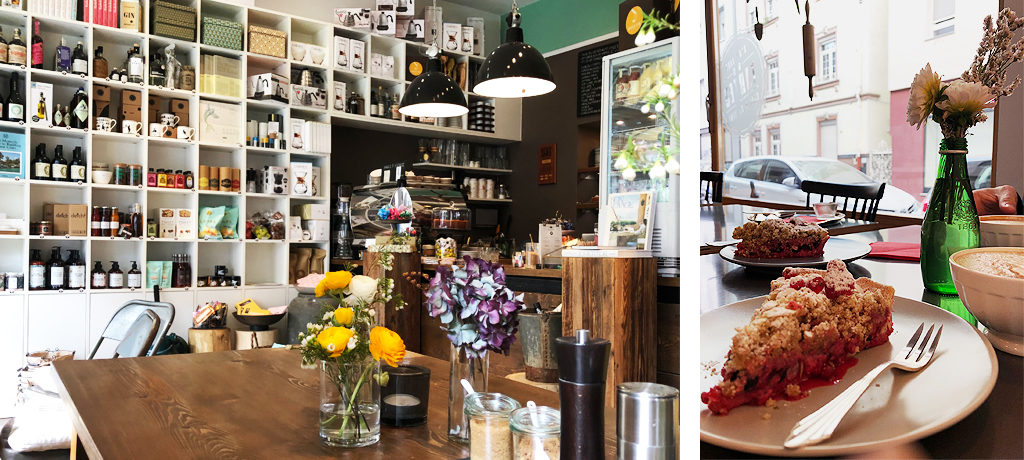 If you need a break from your museums tour, I recommend two options: During the spring and summer months you can spend some time riverside in between locals sitting on their blankets and enjoy a coffee with skyline view at Maincafe. If you search for a more comfortable place, want to have lunch or dinner, you should definitely visit year-round stunning restaurant Emma Metzler ( Schaumainkai 17, 60594 Frankfurt). Its brilliant young team uses local ingredients and serves a splendid selection of wine. If the summer heat is almost on, make sure to ask for an outdoor table! The Bar Oppenheimer (Oppenheimer Str. 41, 60594 Frankfurt am Main) is a cute bar and one of the favorite spots of the well-known artist Tobias Rehberger. In 2013, he temporarily recreated the Bar in New York, but covered it with a geometrical pattern as dezeen reported.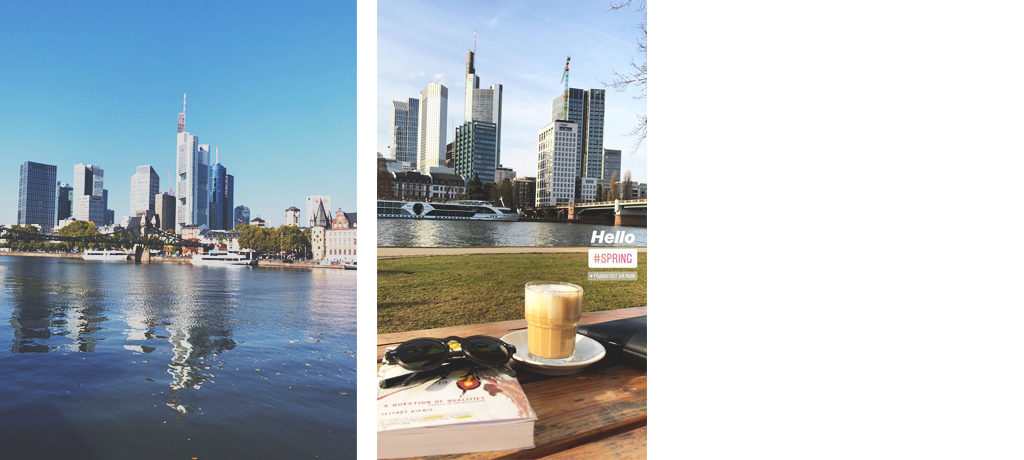 Let's go downtown again: What used to be a problem area has become a hot spot of local scene. Bahnhofsviertel today will let you discover an almost cosmopolitan charm. Deciduous trees line-up in Kaiserstrasse boulevard. Those who stroll along the wide sidewalks will pass more and more new trendy cafés, bars and restaurants. Have a coffee at Plank or Tulmut, which is not so far from the main station. Here you will witness Frankfurt's creative scene, co-working and lots of Flat White aficionados. Plank, but also Maxi Eisen (best Pastrami sandwiches downtown) are magnets for after-work gatherings. Squeeze yourself in, order an after-work drink and join the hordes of creative people. Restaurant Aber has a small seasonal menu for a perfectly laid-back and reasonably-priced dinner. Frankfurt's Bahnhofsviertel has become so hip that after eight memorable years in Frankfurt's Westend district, Michelin-star restaurant Weinsinn moved there to serve sophisticated cuisine in an relaxing ambience.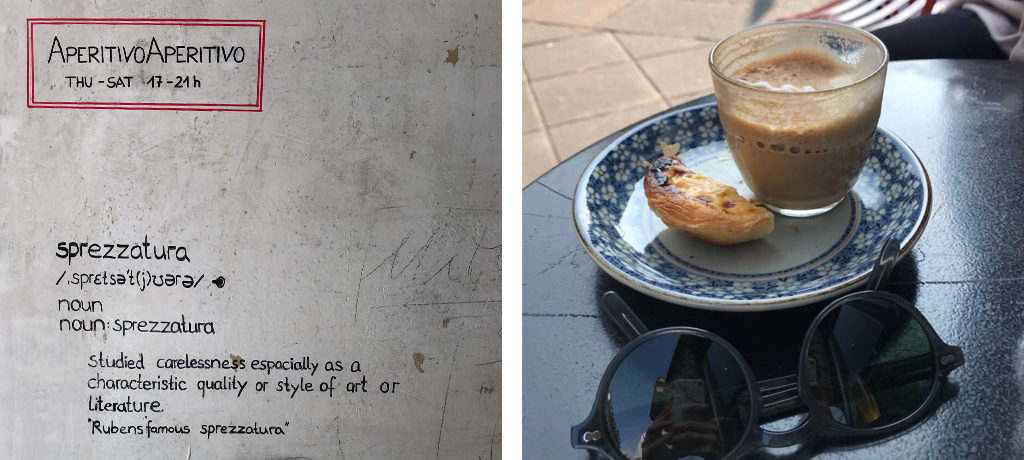 If you are looking for a lunch stop in the city center, check out Margarete being located tangent to Frankfurt's new Old Town that was opened in 2019. The café and restaurant is decorated with typical Frankfurt-built objects, including a kitchen unit as reference to viennese architect Margarete Schütte-Lihotzky. In the mid twenties she designed the prototype of the "Frankfurt Küche" (Frankfurt kitchen), the archetype of today's built-in kitchen, and thus inspired the restaurant owners in the naming process. In its neighborhood a views steps further, you can stop by for a stand-in Espresso at new spot EspressoEspresso.
If you check out the exhibition program from MKK (museum of modern art), make sure to also stop by their in-house café  Mehl Wasser Salz – a modern, pink colored and laid back bakery opened by Denise Omurca and Milan Müller. Their menu contains not only delicious coffee, but also cakes, breakfast and small vegetarian menu – all with emphasis on German-typically sourdough.
Alternatively, head south to Main river and stop by at café Holy Cross Brewing Society.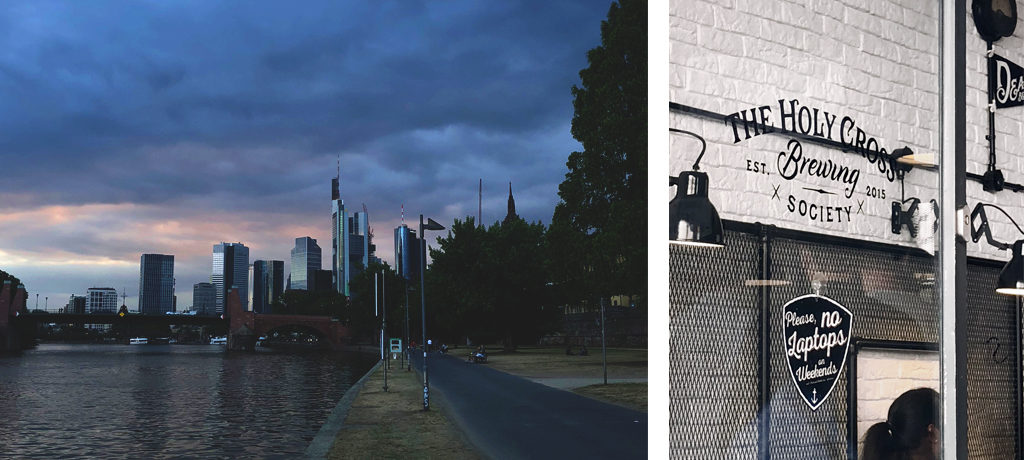 The Nordend and Westend district has so many things to offer as well: If you are into good coffee and roster the coffee from Hoppenworth & Ploch is a must. You can find the coffee all over Frankfurt or in one of their three cafes. Their head roaster won the German Coffee roasting championship 2018.
The restaurant Gustav (Reuterweg 57, 60323 Frankfurt) is recommended if you are looking for something special. The restaurant has two Michelin stars and has got awarded as Gault & Millau's 'discovery of the year' in 2016. Chef Jochim Busch offers seasonal and regional high class cuisine in "an atmosphere that combines relaxation with intense concentration. Cuisine that dispenses with flashy effects and instead embraces precise artisanry, finely harmonised nuances and meticulous attention to detail …"
We have never eaten a carrot, which was as simple as stunning. Got teased? Reserve a table!
»Even in a globalised world, you can still make new discoveries – right on your own doorstep.« – Jochim Busch
An insider must-do is Freitagskueche (Mainzer Landstraße 105, 60329 Frankfurt). Each Friday, a different person can be a chef for a night and creates a three-course meat and veg menu for the guests. Every time comes with a different taste and adventure. Freitagsküche is a casual and very communicative space to socialize, because usually you share tables to meet people and be inspired.
To sum it up, Frankfurt is developing heavily, new high-rises being built on every corner change the iconic skyline from year to year. With its creative scene, new urban hot spots adding to the multicultural and diverse lifestyle and great options for dining or drinks, the city has become a definite place to visit.