Do you know this feeling that there is so much to explore? My plan – or call it lifetime goal – is to have visited all capital cities of the world. Mission possible as Ugandan woman Jessica Nabongo lately has demonstrated. In today's globalized world, you get inspired by accessing information along your interests within seconds, by meeting architects, creatives and friends from all over the world and listening to their stories and by having the chance and freedom to cross borders.
My trip to Chile was the outcome of one of these inspiring talks after which we decided to go places and stop by in the Chilean capital. It brought me one step closer to my achievement. 40 hours in Santiago de Chile – this is my review!

As architect, I am not a big fan of short visits to just checkmark a bucket list. You can't really "feel" the city then, but as Patagonia was the promising final destination of our trip, Santiago de Chile was only one of the promising hubs we passed on our journey. Santiago is Chile's capital and – with its over six million inhabitants – the largest city of Chile. It is also one that feels deeply rooted in its cultural history of art. From what we experienced, it is also a well-known hot spot for foodies and aficionados of ceviche. Geographically it lies at the Río Mapocho on the foot of the stunning Aden landscape. So, spending 40 hours in wonderful Santiago de Chile comes with a first learning: I have to come back, recap the places I saw and visit those I couldn't stop by. However, 40 hours are also enough to fall in love with the city. Let me tell you about my first date with the city:
14:30 Afternoon. Downtown. Check in at Magnolia, a lovely boutique hotel spotted in AD awarded with the UNESCO Grand Prix 2017. The transformation of the historical mansion from 1929 into a hotel took five years. Chilean architect Cazú Zegers managed to retain the building's neo-Gothic façade, grand marble staircase and stained glass windows. Together with designer Carolina Delpiano he added a contemporary feel while paying homage to the architecture of the past and choosing the finest materials for the interior design. Retrospectively although I loved our stay here, I would probably choose a hotel in another area next time.
Always a good starting point is the Third Wave Coffee Map to follow your caffeine habits. And nothing tastes better than freshly roasted coffee (especially if you arrive after celebrating a ten years reunion with friends the night before). We followed the expert tips in the map which brought us to Café Forestal (Ismael Valdés Vergara 490, Santiago, Región Metropolitana) next to our hotel and in the neighborhood of the Museo Nacional de Bellas Artes. They offered us a delicious Cappuccino accompanied by – ¡qué sorpresa! – "Streuselkuchen"(so German). Ramped up, we started our urban discovery:
ARCHITECTURE AND LANDMARKS
El centro
16:00 Located in the Santa Lucía barrio and close to our starting point, we checked out the famous (and touristy) Mercado Central de Santiago. It is one of the city's oldest fish markets. Completed in 1872 by architect Fermín Vivaceta it is well known for its seafood offerings today. Now it's time to escape from the hectic and touristic places and hunt for some architectural jewels.
Cathedral metropolitan
17:00 The Plaza de Armas is in front of the Cathedral metropolitan and it's the perfect stop for watching people. The main square of the city is the centerpiece of the initial layout which has a square grid pattern. The beautiful neoclassical cathedral is the domicile of the Archbishop of Santiago de Chile and with its colorful sumptuous ceiling definitely worth to have a look. Religious or not, I always like to see churches of all kind everywhere I go.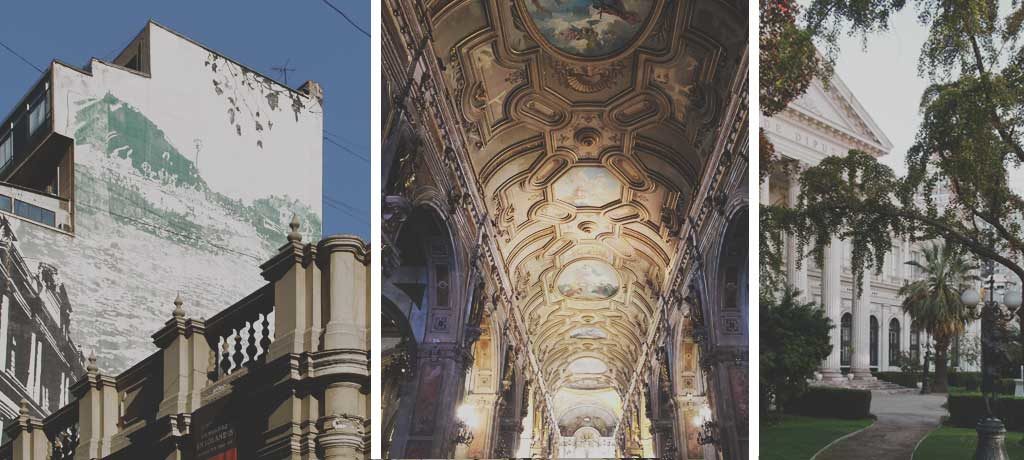 Paseo Bandera
17:20 If I'd take a guess, it could have been a Jan Gehl showcase for tactical urbanism. Making a busy street into a pedestrian only, traffic free environment adds so much more quality to an urban discovery and your well-being in a city. The Chilean visual-artist Dasic Fernández transformed the street into a 365 Meter long design piece. Originally on the whole street paintings and art pieces were placed and the government planned to open the street back for traffic in August 2018. As you can see, till March 2019 it was still a colorful promenade and offers a lot of seating-accommodation. Find out more here.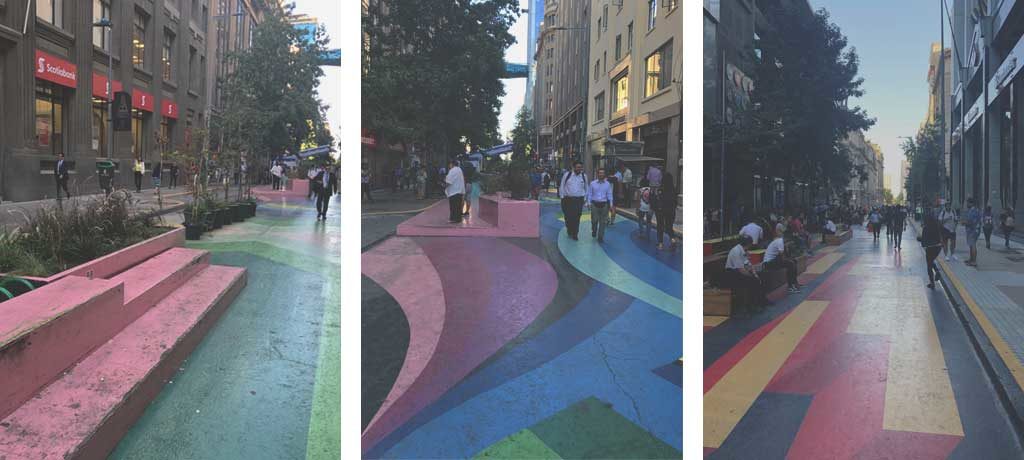 Thanks to a mixture of seasoned Chilean chefs returning to their culinary roots, young chefs returning home with flavors and ideas inspired from overseas, and better access to fresh and native ingredients, Chile's culinary epicenter is more diverse, self-reflective and internationally noteworthy than it's ever been. – Hillary Eaton, food/travel writer, Eater.com
19:00 After a quick refreshment stop back at the hotel, it's time to head out for a tasteful ceviche experience. There is no better place to choose than Osaka
(Nueva Costanera 3736b, Vitacura, Región Metropolitana) and chef Ciro Wantanabe's proved to live up to the excellent reputation of his exceptional seafood and Peruvian-Japanese fusion cuisine known as Nikkei. Best sushi and ceviche I've had so far – by far.
Cerro Santa Lucía
09:00 After leaving the hotel early in the morning, we strolled around the beautiful park Cerro Santa Lucía. Starting the day in such a relaxing surrounding pays off. While exploring the city's green oasis you can take a deep breath from sightseeing.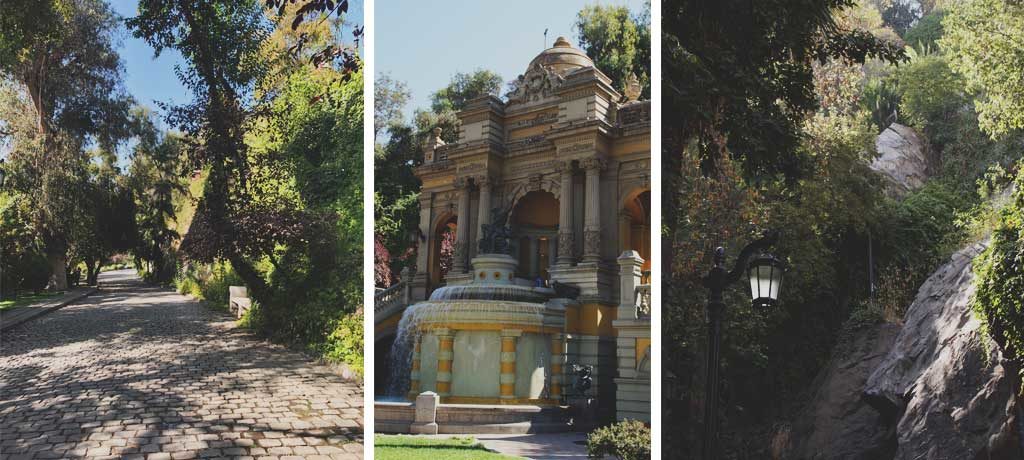 10:00 Exit north east and you will arrive soon at Coffee Roaster 3841 (José Victorino Lastarria 288, Local 11, Santiago, Región Metropolitana) to enjoy the first coffee of the day. Perfect for a short stop, a Flat White and to enjoy the first sun rays on the little bench at the entrance.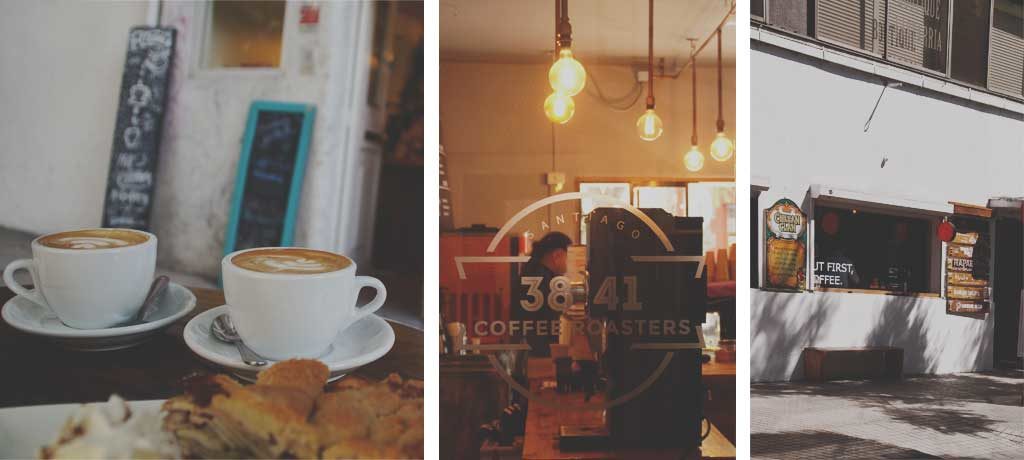 Gabriela Mistral Cultural Center
11:00 The beautiful weather steel glass building Lateral Arquitectura and Diseño by Cristián Fernández Arquitectos was partly finished in 2010. Its completion is still ongoing. The center is a reconstruction from the former Diego Portales building (before: Gabriela Mistral Cultural Center) which was built in 1972 and played an important role in the recent Chilean history. After a fire in 2006, 40% of the structure was destroyed.
"The architects decided to focus on four main concepts: openness to the city and its urban relationships across a large deck with loose volumes under it, the creation of new public space, the opening of the building to the community by incorporating community programs, and the legitimacy of the project through the incorporation of as many social agents in shaping a new benchmark for the city." – ArchDaily.com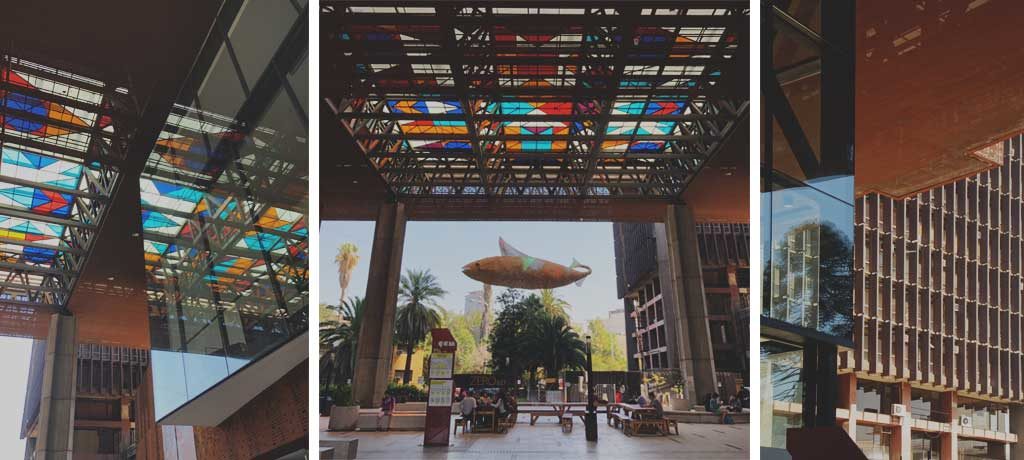 The building is organized horizontally around three volumes. One volume contains the Documentation Center of Performing Arts and Music, one a training room of the Performing Arts and last the Great Hall Theatre that once finalized is able to seat 2000 people in the east wing of the building. The three buildings are separate at street level providing multiple covered pedestrian spaces. At the lower levels all three buildings directly connect.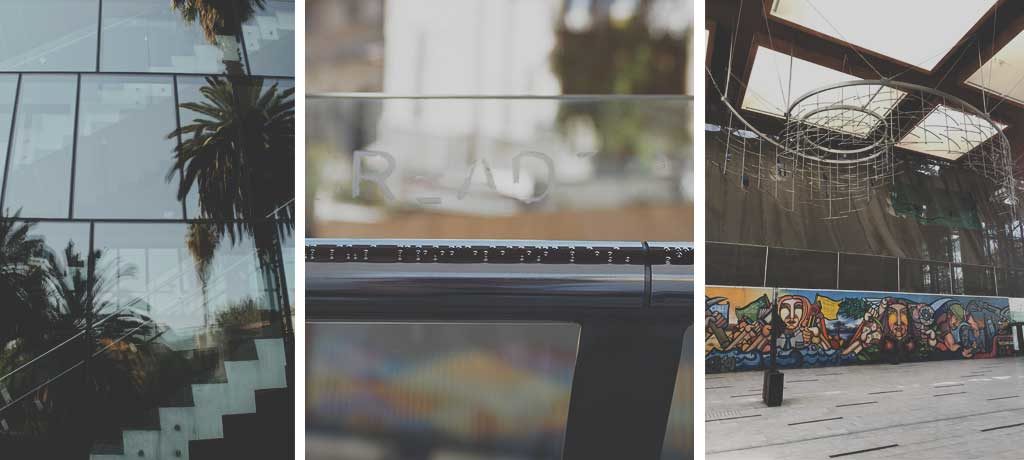 Some little details that caught my attention: the colorful mosaic roof, the mirroring effect on the big windows and especially the descriptive lettering in the glass. Gone over the years, but the braille is still there. Overall, I liked the relaxing atmosphere of thi place inviting you to discover, sit down and observe the surrounding.
Barrio Bellavista
12:00 Moving on, we crossed the Pío Nono Bridge next to Plaza Baquedano to move ahead to Santiago's Bellavista neighborhood. The district is famous for its vibrant street art, which is a must see for every art fan as there is an endless number of murals to be found here. Where to start? Simply walk the streets of Loreto, Dardignac and Antonia López de Bello and discover this colorful open-air gallery that is a perfect example how adding color and life to a less affluent neighborhood makes a place much more vibrant and magnetic to visitors and inhabitants.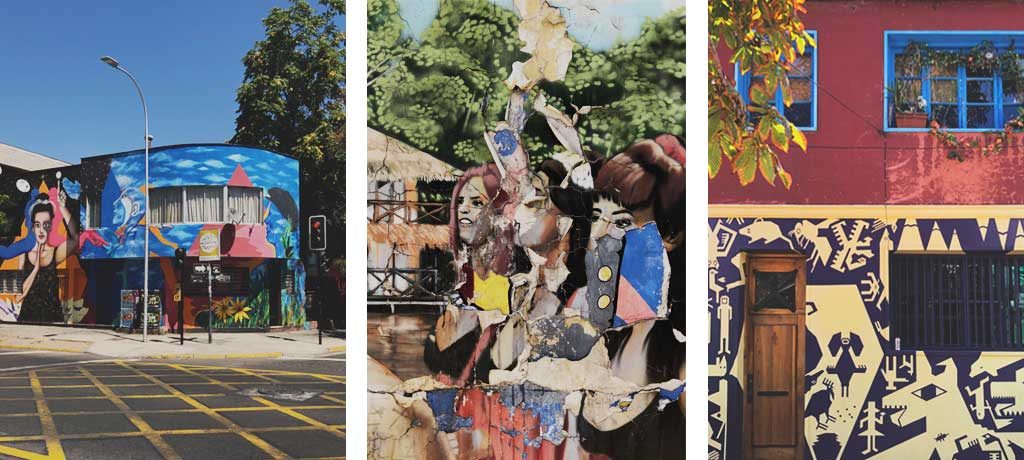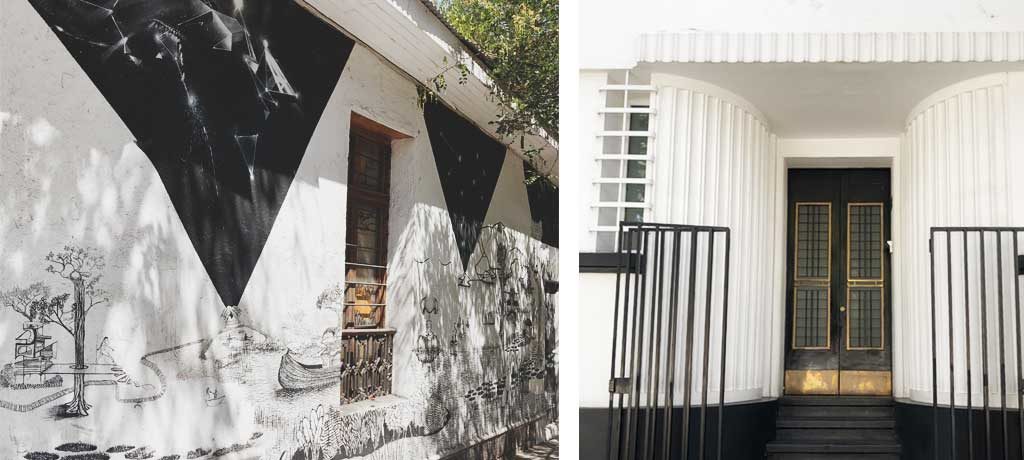 13:30 Bellas Artes, part of the Bellavista neighborhood, is home to great bars, theaters and restaurants. Need a break? Peumayén Ancestral Food (Providencia, Constitución 136, Santiago) gets you covered with a great variety of ancestral food of the Mapuche and Aymara indigenous peoples of Chile. It was suggested for dinner to us, we went for a quick lunch and I have to say it has been the best hospitably I have ever experienced in a restaurant. Our visit turned out to be rather a journey through Chilean history than a quick lunch and let us discover the house specialties accompanied by super tasteful and creative chef suggestions.
Cerro San Cristobal
15:00 The Bellavista neighborhood also provides access to Cerro San Cristobal, Santiago's Metropolitan Park spanning an area of 1,800 acres making it one of the largest urban parks in the world. Need a little time out from the city? The park is the perfect excuse to relax. Access the hill top via cable car and enjoy a perfect view above the city, its skyscrapers and the stunning Anden landscape on the horizon. The park also hosts a Botanical Garden and is a popular playground for locals to follow their sports activities.
La Chascona
16:00 Built with multiple levels into the base of San Cristobal hill in Bellavista you will find the house of the Nobel Prize winning Chilean poet Pablo Neruda. La Chascona (the wild-haired lady) is named for Neruda's third wife Matilde Urrutia referencing her untamed curly red hair. The house is divided in three separate structures on three separate tiered levels connected by outdoor, uncovered stairs. After the poet's death, the building was badly damaged by air-force missile attacks during the 1973 military coup. Matilde was the one that together with friends reconstructed the buiding she once shared with the poet.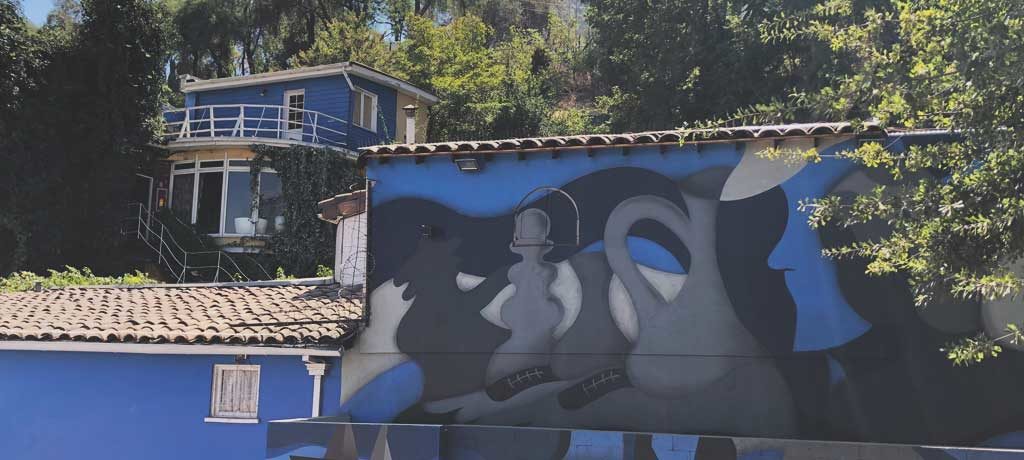 Costanera Center
16:30 Heading east, we took an Uber and pass by a 64-story and 300 meter high office building: The Gran Torre Santiago. It is part of the Costanera Center complex neighboring a shopping mall and two high-end hotels. The skyscraper is the tallest building in Latin America. Although Chileans are proud of this high-rise, it also provides some hard lesson on building and real-estate in Chile as Wall Street Journal reports. For us the building leads the way to another popular district in Santiago de Chile: Las Condes.
URBANISM
17:00 Las Condes welcomes us with various building designs. Maybe it is because I arrived in Santiago without having a big idea about the city's architecture, but exploring all the districts is definitely worth from an architectural point of view. I was really overwhelmed by the diverse facades and buildings that I have seen during our urban discovery.
My Chilean friends introduced Santiago to me as an architectural mix influenced by the US on the one hand and South America on the other hand. Others did not agree with this classification, so I was very curious. Now, having seen the square grid pattern in the newer districts like in Las Condes I can somehow agree with the classification.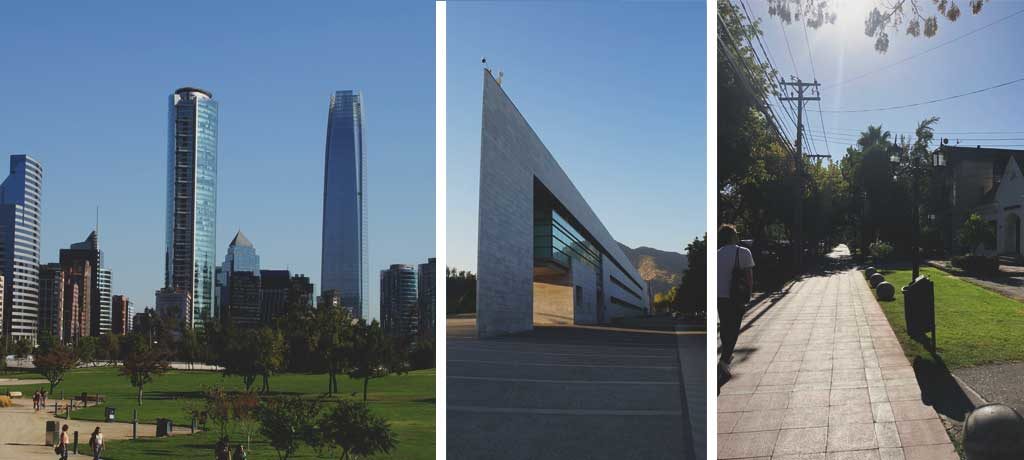 Housing
18:00 Walking around, I am amazed about how much creativity one can find within housing sector. For sure it's not social housing, but still it convinces with not repeating one basic pattern design. I have never been in a city with such a variation of beautiful facades of apartment buildings. In the center you are able to experience housing projects of almost every architectural style. In Santiago's newer districts like buzzing Las Condes, designed as office and habitation district with higher buildings, it's a distinctive mix of materials, styles and concepts that creates a great tension and diversity.
Same counts for Vitacura, arguably Santiago's upper-class neighborhood. Walking through Parque Bicentenario that was created in celebration of the Chilean bicentennial we enjoyed the last sun rays of the day in this peaceful urban oasis alongside the Río Mapocho. Aside from this park (which allegedly is home to colony of flamingos), the two main reasons for visiting Vitacura are simple: to shop and/or to eat.
19:30 Relaxed and prepped for our last night in Santiago, we met our friends at Mestizo (Bicentenario 4050, Vitacura, Región Metropolitana) in the north of the park to recap our 40 hours in Santiago and have a joint "after-work" dinner at the restaurant terrace. Good thing about meeting locals: They order basically every local signature dish to ultimately make you an ambassador of their city. Enjoying all the fresh fish from Chile's 4,300 kilometers / 2,700 miles long coastline, the Chilean cuisine and amazing traditional desserts like dulche de leche with churros definitely has left its mark in our culinary memory. What a memorable end of our visit.
Goodbye Santiago, see you soon!
06:00 In contrast, driving out of the city (I haven't stop there, it's just the feeling I got out of the car) it was a very different impression. In the suburban districts a lot is about repetitive prefabrication. But to this interesting topping I will come back at the next visit.
Any suggestion for my next trip?