#BookReview
Providing proper housing for city dwellers, generations of architects and city planners have faced the challenges coming along with rapid urbanisation. So what can we learn about solutions from the past? Florian Urban provides a valuable overview in his book "Tower and Slab – Histories of Global Mass Housing", released in 2016 and my favourite book from this year. Read here why:
Long Story Short
Tower and Slab deals with modernist mass housing blocks around the world. What makes the book worth a read: Author and professor of architectural history Florian Urban highlights the reasons of the success or failure of urban mass housing projects and brings each case into context while introducing and respecting their different characters and respective individual challenges. Chicago, Paris, Brasilia, Mumbai, Moscow and Shanghai – Urban's analysis captures the cities' original ambitions, their envisaged approach to solve the housing issues and what makes them stand out in terms of the architecture, political conditions and inhabitation.
Since the completion of the first modular housing developments in the 1930s, towers and slabs have been alternately glorified as the salvation of mankind and scorned as generators of misery and distress.

Florian Urban, Tower and Slabs
I think it's fair to state the lowest common denominator for many architects and city planners is their original goal to solve the housing dilemma and provide better living standards. Despite this idealistic baseline, many housing reformers' contributions vary in the context of form, social composition, district location, maintenance and stakeholders.
A look at the all the housing projects compared by Urban, it becomes obvious they stand for the objective to liberate and provide equal living standards for everyone, but throughout the project scope develop into a wide array of unequal, not well thought-through variables. Among these social context and racial segregation on the one hand and the belief in private enterprise as a social benefactor on the other hand. In short: Global architecture, locally conditioned.
Florian Urban observed the full portfolio of serially produced apartment blocks built as low- and high-rises, built on individual properties and large estates, built as bricks or prefab slabs, in city centers or the periphery. He witnessed stronger or smaller state inventions, looked at social housing projects and luxury condos, with tiny one-room apartments or spacious maisonettes, with austere modernist or lavish neoclassical facades, some owned by public, some by private developers. All these variables can have ambiguous effects and can decide over the sucess and failure of housing projects. According to Florian Urban, here within local variations in mass housing relate to three factors: a diversification in the conceptual background, the internal differentiation of the respective society, and the different architectural context into which mass housing was introduced.
The debates over the success or failure of mass housing that were fought out in many countries were highly contextual. They depended on demographic factors in the same way as on the availability of alternative forms of dwelling, on local class differentiation in the same way as on the respective city's level of wealth, which both made a mass-produced apartment a form of accommodation far above the average, as in Mumbai, or far below, as in Paris.

Florian Urban, Tower and Slabs, p. 173
Apart from the creativity put into architectural concepts, at an average mass housing projects rather are an upgrade than a downgrade. The authour exemplifies while in the United States decades-long criticism caused the demolition of most mass housing projects for the poor, in the booming metropolises of Shanghai and Mumbai remarkably similar developments are being built for the wealthy middle class. This makes Urban conclude, tower block construction will be on the rise not only in regards to quantity of multistory homes but also in terms of their acceptance.
Architect? Why to read Tower and Slab
If you are interested in the history of mass housing, how culture defines the way it is designed and which criteria result have had a positive or negative effect on the respective housing projects, Tower and Slab is probably a great book for you. In my opinion, it intelligently compares urban housing projects in various countries, raises curiosity for the presented case-study. The strength of the book is the practical and less theoretical narrative. As an architect one can have the best intentions to build great habitation. If the idea structurally does not consider contextual circumstances between city planning and social history, there is a high probability to fail. Tower and Slab enlightens these contextual circumstances with a wide array of housing projects and thus is always in the back of my head when talking, criticising or planning large scale habitation.
About the Author: Florian Urban
Florian Urban is Professor and Head of Architectural History and Urban Studies at the Mackintosh School of Architecture, Glasgow School of Art. He holds a Meisterschüler degree (Master of Fine Arts) from the University of the Arts in Berlin (1996), an MA in Urban Planning from UCLA (2001) and a Ph.D. in History and Theory of Architecture from MIT (2006).
Before joining the Mackintosh School of Architecture he taught at the Center for Metropolitan Studies at the Technical University of Berlin and worked for the German Federal Institute for Research on Construction, Urban Affairs and Spatial Development (BBSR).
In 2017, I've had the lucky chance to meet Florian Urban in Glasgow and talk with him about Machintosh School and their architectural research specialisations. Urban showed me around the charmingly new-built university building and it was inspiring to see his research intersects with my interest in the relation between architecture and social, cultural as well as political forces. Furthermore he researches about the discourses on modernism and post-modernism as well as on historic preservation and identity.
While the university's original campus building was built by Art Nouveau architect Charles Rennie Mackintosh in 1900 and got accidentally victim of a fire in 2014, luckily 90% of the building could be saved on that time and restored. As a complementary contrast to this iconic building, Steven Hall architects designed the Reid Building (image below) in 2014. During my visit, I could not imagine that a few months later it got destroyed again by a second fire in June 2018 and the majority of the restoration work which had been carried out, including the rebuilt library, was destroyed.
Steven Holl Architects is specialised for their ability to shape space and light with great contextual sensitivity. The Reid building for the Glasgow School of Arts got them awarded with the Education Design Award 2014 and according to the architects stands out as "driven voids of light allow for the integration of structure, spatial modulation and light. The 'driven void' light shafts deliver natural light through the depth of the building providing direct connectivity and color of the sky. In addition, they provide vertical circulation through the building, eliminating the need for air conditioning."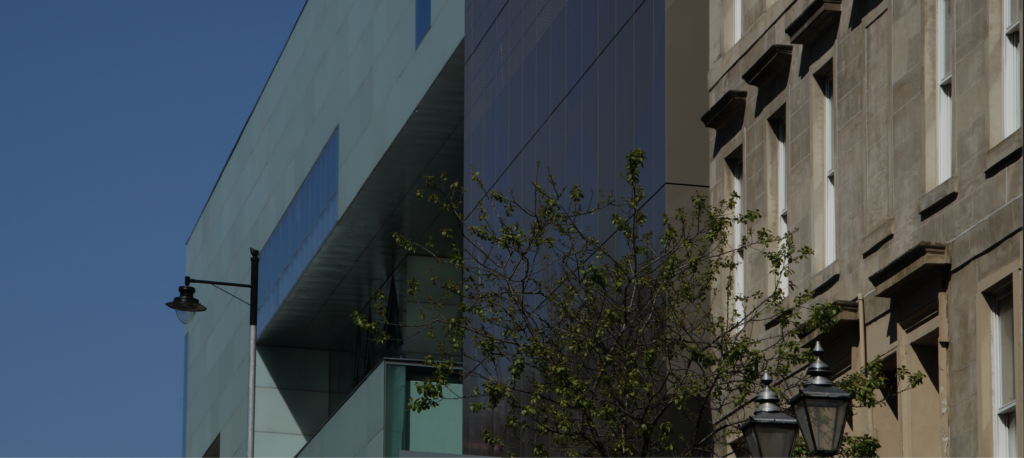 Before Tower and Slab, Florian Urban wrote books like Neo-historical East Berlin – Architecture and Urban Design in the German Democratic Republic 1970-1990 (Farnham: Ashgate, 2009) or Berlin/DDR, neo-historisch – Geschichte aus Fertigteilen [Neo-historical East Berlin – History from Prefabricated Parts] (Berlin: Gebrüder Mann Verlag, 2007)
Publishing House
Publisher: Taylor & Francis Ltd, 2011
ISBN: 0415676290
Length: 212 Pages