Research of Urban Dwelling
Today one can not only design and build with matter, but also construct with life. This fundamentally changes the game. What if mass housing and increasingly higher buildings give rise to a loss of social interaction and relationships? What should be seen as a role model for sustainable urban development? How privacy and public can be redefined through new approaches in city planning?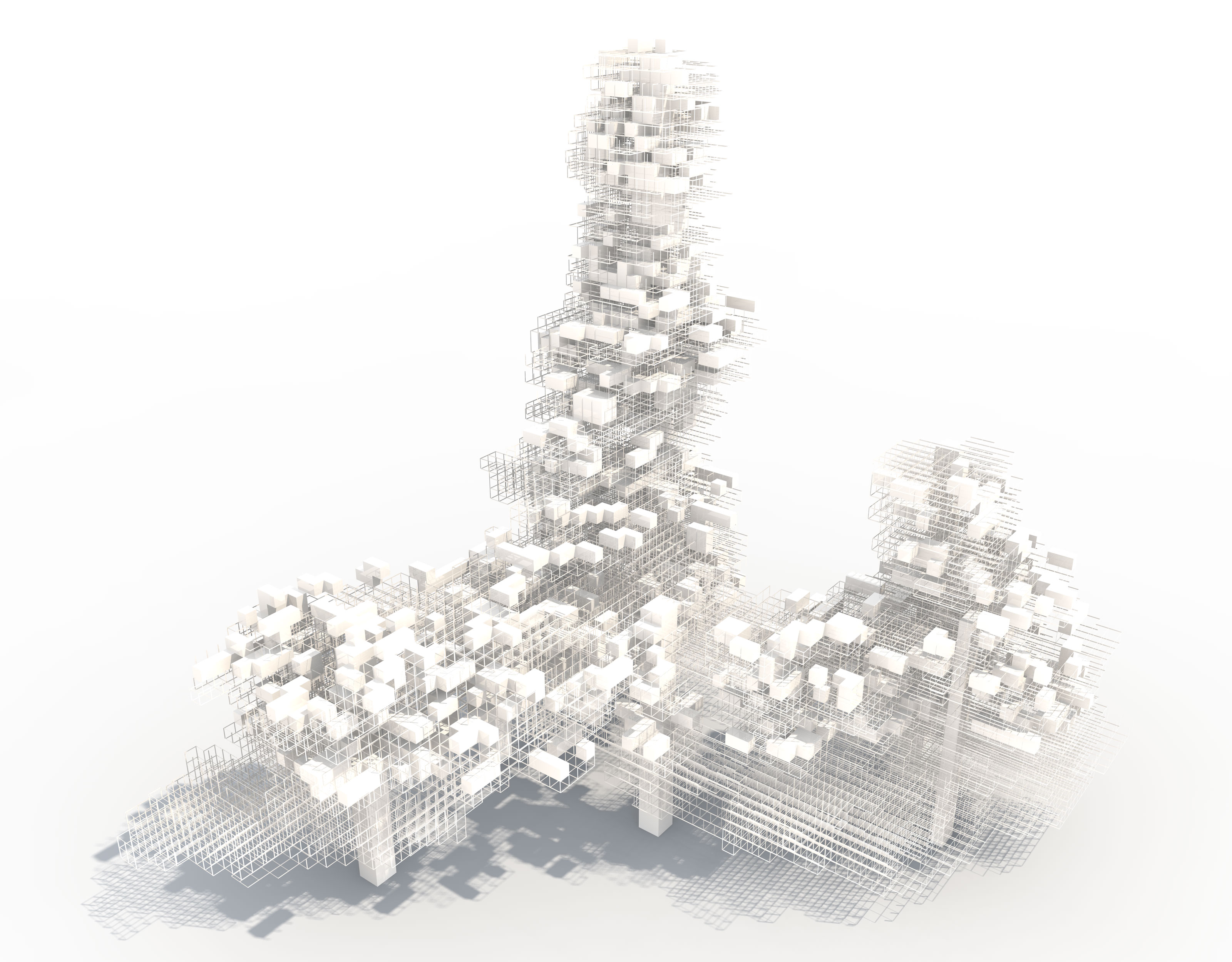 This design research is based on these questions, analyzing mass housing and humanity in relationship with living formations. Based on mycelia research, the master thesis "Aggregation of Growth and Change" is an architectural proposal for a high-rise housing complex with integrated, smaller commercial and social programmes.
It aims to enable loose social interaction but self-contained, community-like relationships between the inhabitants. Following, the project seeks to propose a habitat concept based on natural organisms and their growth and change behaviors. The project treats ubiquitous urban dynamics and deploys this to stage private and public life within a vertical city.

EVALUATION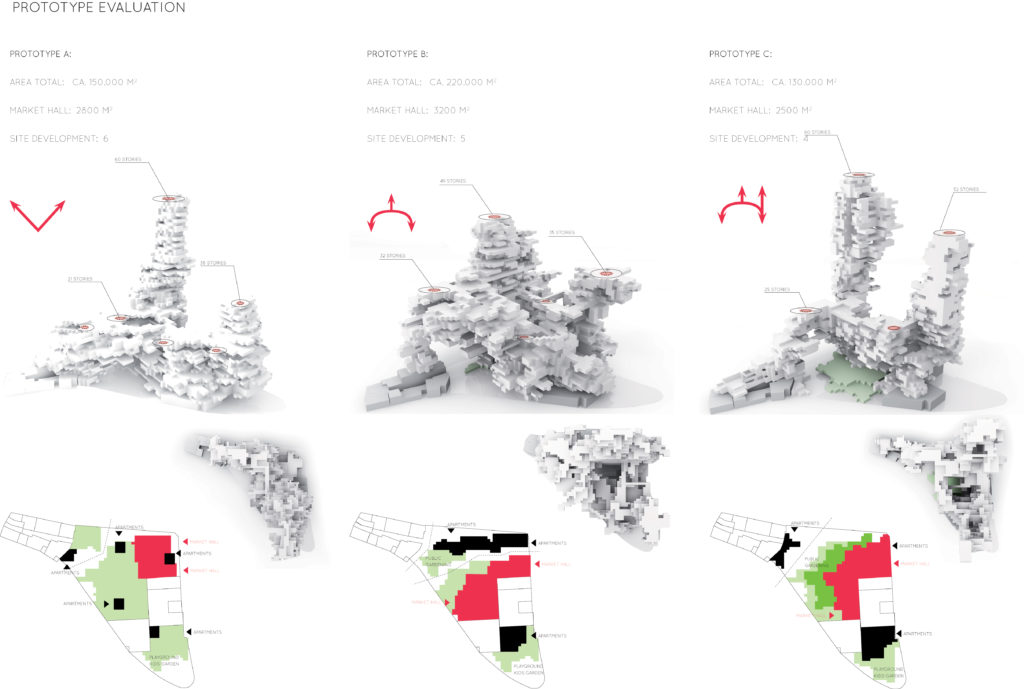 Based on these evaluations the idea was to create a structure that consists of apartment modules which offer affordable space to the dwellers. With this idea, it attempts to antagonize the mass housing problem by giving enough space for people to interact and it fosters a shareconomy (economically/participation oriented sharing) through redesigning the way of housing and habitation.

The fundamental strategy of this whole design approach is to gain flexibility through the concept of sharing without losing individuality. The aim is to (a) keep private space private, (b) be flexible in its apartment structure and thus enable interaction opportunities if desired and at last to (c) be affordable because of its small entities.

As small entities often support dissatisfaction (see mass housing concepts, loss of individuality), this approach envisages semi-public space which can only be shared between and accessed of the dwellers for gatherings, meetings, and interaction. It is designed as a short-distance network between the building's apartments.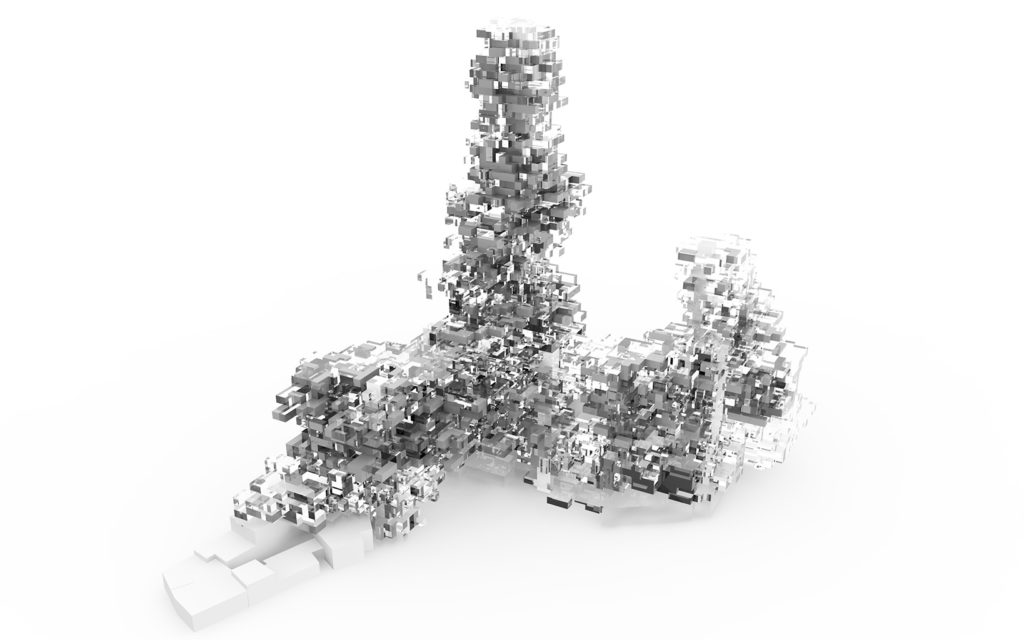 The network of circulation is realized by voids (atriums). The atrium creates the perception of not being just surrounded by horizontal neighbors, but also vertical neighbors. This structure supports networking and relationship building because the view at neighbors makes living more transparent across different floors. In addition, this concept provides two public areas (the market hall and the rooftop garden) that serves as relaxation points and can be described as shared, in-house urban gardening space. In contrast to the semi-public space, these areas are accessible to the public so that neighbors and interested people also feel welcomed.

The distinction between research fields as biology (organic) and architecture (non-organic) is fading and blurring. We need to overcome mass housing concepts that disregard human needs and above all interaction and individuality. Living formations such as mycelium could serve as inspiration for further research on mass housing and future architectural concepts of a residential high-rise.
DESIGN