With the ambition to stage a dynamical design process with the potential of engendering habitats, research was undertaken on the phenomenon of living formation in mycelia, the vegetative part of a fungus through which mushrooms absorb nutrients from their environment as they spread out. Mycelia form a robust, self-organized network and have a high capability to dynamically change its structural properties. The organization of mycelia exemplifies the redundancy capacity of vast networks which allows for relative independence for individual nodes within a whole that is given by neighboring relationships. The hypothesis was that this flexible branching property could be digitally simulated and linked to the organization of private and public zones within the housing complex. Of particular interest were form, proportion and scale within the emergent aggregation that resulted from the branching dynamics. The growth and iterative branching dynamics were simulated with the software Processing.

Growth and Change from sophi pass on Vimeo.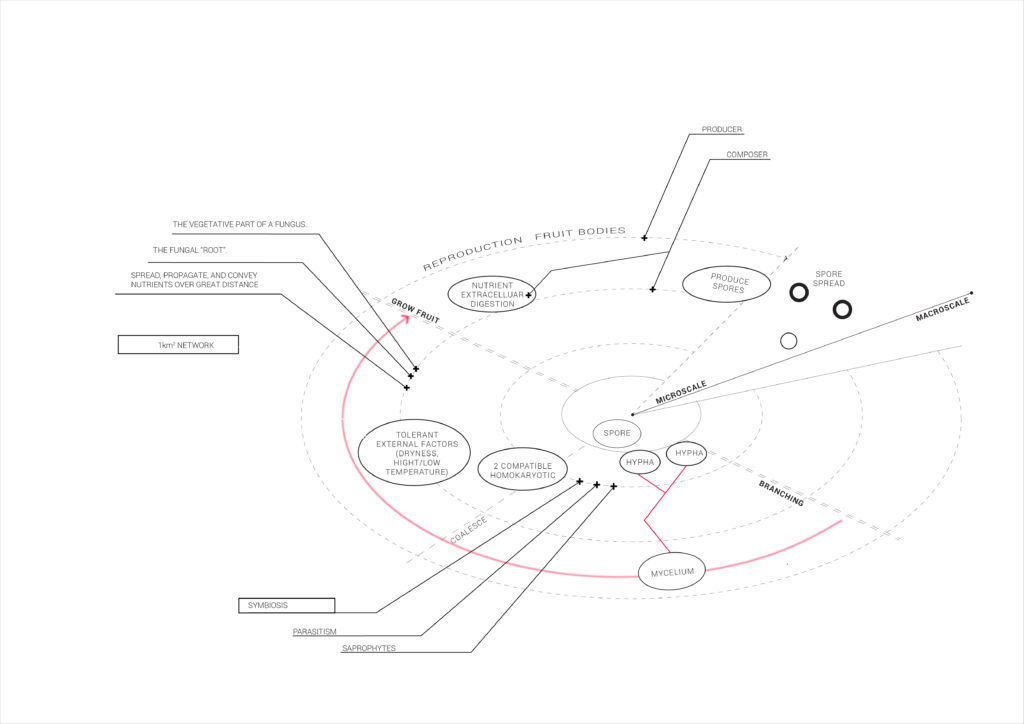 By linking these findings with the system of mycelium-based living formations a whole new network of private and public aggregation can be created. Mycelium has a highly-developed capability to dynamically change its structural properties. Using programming language Processing to animate the behavior of mycelium with its important parameters of growth, branching, generation and speed provides a design tool to manipulate a network like this for further architectural studies analyzing dynamic and more or less randomly organized changes. Using a grid, which could change in form, proportion, and scale, it creates a tool to design habitats structure for all kind of needs, sites and sizes.